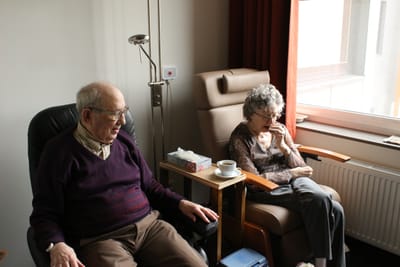 I ensure my work is very much person centred, finding out the type of music that they enjoy as well as special interests they may have had, so that I can speak to each client about topics that are meaningful to them. I collect information from the clients, their families and staff in order to stimulate them mentally and access positive memories that bring joy and comfort.
This person -centred approach provides a safe time and space and is a highlight of patient's lives, supporting their happiness, well-being, self-respect and dignity.

Massage therapy can help ease the effects of isolation, loneliness and boredom while encouraging feelings of worth and well-being. My work has produced some outstanding results, decreasing anxiety and agitation levels significantly, while reducing muscular aches and spasms and building reassurance and trust. Patients who are unable to communicate in conventional ways are still able to direct my hand to painful areas themselves. Non verbal clues are key - facial expression, movement and breathing all provide feedback about how the client feels about and the benefit from touch.


I use a combination of massage, aromatherapy, lava stones (beneficial for those in pain) and reiki (particularly at end of life). I am trained in dementia, oncology and palliative massage. I hold a current DBS and am a member of The Federation of Holistic Therapists and The National Association of Complimentary Therapists in Hospice and Palliative Care.